A man asking his brother to postpone his COVID-delayed honeymoon booked for the day after his wedding has been slammed online.
Reddittor u/Many_Cryptographer_3 shared his situation to the site's Am I The A**hole forum, where he revealed he and his wife tied the knot in the early days of the pandemic, and as such had to delay their honeymoon.
His brother, who got engaged mid-COVID, announced he was getting married this year, and u/Many_Cryptographer_3 saw an opportunity to kill two birds with one stone.
"Due to the nature of my job I can only take leave twice a year. I'm a doctor and work most weekends and am quite burnt out so we decided to book a relaxing honeymoon overseas at a resort.
"Due to the leave issue I booked the trip for the day after my brother's wedding, which was my last available leave for the year," he wrote.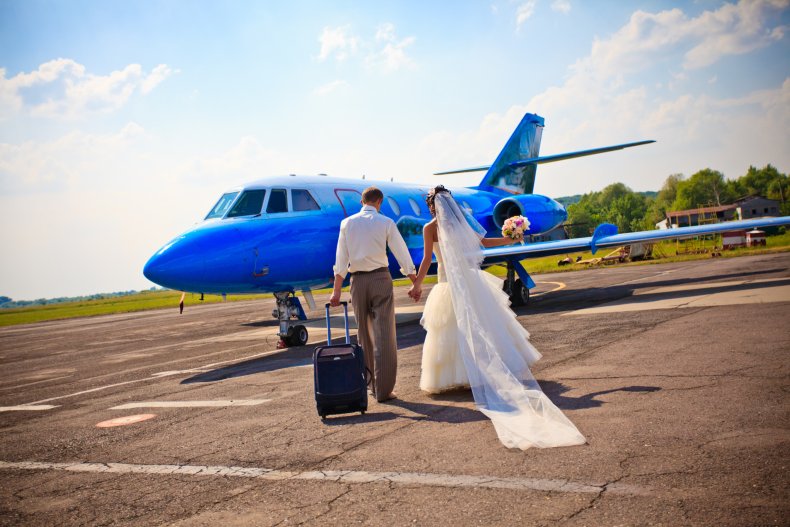 Weddings are well-known for being expensive, and that's often without the cost of the honeymoon added on.
The special vacation newlyweds tradition take costs on average $4,800, according to wedding website Brides.comquoting figures from last year.
That can rise to between $5,000 to $7,500 for overseas trips, such as the popular destinations of Mexico and the Caribbean.
While further afield, such as Europe or Asia, can cost as much as $6,000 to $25,000.
The website explained: "The cost of the average honeymoon varies widely depending on the following factors: seasonality, location, and amenities."
While it's unclear where the couple are based, the site added: "Location also plays an important factor in terms of cost. Americans honeymooning states will end up paying far less than couples who choose to go across the pond to Europe to celebrate their nuptials. "
The doctor confirmed his wife advised him to double-check dates with his family first, and he spoke to his brother and parents, who saw no problem with the trip.
But as the wedding loomed, the family didn't seem to recall the doctor running the honeymoon past them.
He continued: "Two months before the wedding and trip I was on a call with my parents. I mentioned booking the trip and they asked what trip? I told them the honeymoon I'm leaving to after the wedding.
"Then they said, you're going on a trip right after the wedding? That was weird because I know I spoke to them about this. The next day I get a call from my brother asking me whether I booked a honeymoon the day after his wedding I told him I did and he seemed quite upset.
"He said won't this take away attention from their special day and can't I do it some other time. I told him we spoke about this and he said he was fine, also I have no other time in the year where this is possible. He said he remembers now about the conversation but he only really processed it now."
Now feeling stuck over what to do, he asked the internet for advice, admitting: "I don't think anyone here is a bad person, it's just frustrating that we took the time to speak to people but it's obvious they weren't really paying attention."
He still felt "guilty" over the honeymoon, but clarified: "People don't seem to understand that working in a hospital is very different to an office job. I can't just take leave whenever I want and the environment is incredibly stressful ."
The chart below, provided by statsshows hurdles to vacation.
In the comments, the doctor explained that after a year of saving, he and his wife were able to afford a "fancier honeymoon," and it's their first trip overseas.
Referring to his brother, he added: "Essentially they aren't going on a big honeymoon straight away due to the cost of the wedding. Which is why they might be upset with us…
"I think it best I just don't mention the trip during the wedding if anyone asks. He asked if I can move the trip so maybe they feel like I'm stealing their thunder ?"
The post, which can be read herehas amassed more than 11,000 upvotes and comments since being posted on Wednesday, as people felt he had nothing to apologize for.
MochaUnicorn369 said: "This is BS—why can't a wedding be one day and then people go back to their own lives??"
RandomNick42 thought: "The entitlement is staggering. How the hell would a completely unrelated trip be taking away the attention from anything?"
EvilFinch wrote: "I guess they are miffed that OP will fly to his honeymoon while they stay at home. Maybe they hope if they mope around enough, he will give them their honeymoon trip as a present. NTA."
IzBlueGirl said: "Most guests leave the day after a wedding anyway."
Newsweek contacted u/Many_Cryptographer_3 for comments.
Has a wedding come between your relationship with a loved one? Let us know via [email protected]. We can ask experts for advice, and your story could be featured on Newsweek.